Speech Therapy Services address delays and disorders in expressive/receptive language, articulation, oral motor dysfunction, apraxia of speech, social language, fluency, and feeding.
We provide Speech-Language Pathologist consults, evaluations, and treatment services.
Your child may benefit from speech, & language pathology services if they display a decrease in: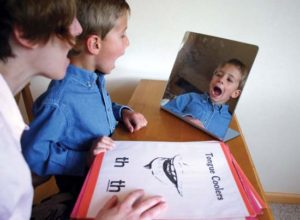 Language: Is your child gesturing, but not talking?  Does your child seem to have a limited vocabulary for his/her age?  Does your child have a hard time understanding directions?
Articulation: Do you have a hard time understanding your child's speech?  Do teachers point out to you that your child is more difficult to understand than other children his/her age?
Feeding/swallowing: Is your child having difficulty eating and swallowing safely?
Fluency:  Does your child frequently struggle to speak and/or repeat sounds, syllables, or words when speaking?
Voice: Is your child's voice chronically hoarse?
Our Speech Therapists use a variety of techniques to teach children the essential skills needed to be successful communicators. We develop customized speech-language programs based upon your child's needs.