Occupations are meaningful activities of individual's everyday lives. Occupational Therapist assist in encouraging independence by providing services to address fine and gross motor skills, sensory processing and modulation, handwriting skills, visual motor skills, cognition skills, social-emotional skills, basic receptive/expressive language skills, and self-help skills.
We provide Occupational Therapy consults, evaluations and treatment services.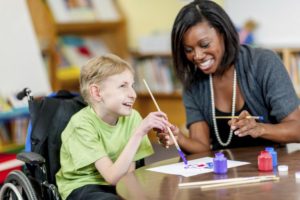 Your child may benefit from occupational therapy services if they display a decrease in:
Poor fine motor & gross motor skills
Decreased eye hand coordination
Over/under responsive to sensory input
Touches people or objects constantly (seeking sensory input)
Crashes and/or bangs into people or objects
Difficulty with sleeping
Difficulty with sitting still, attention, behavior and/or calming self
Reactive to feel of clothing, or daily routine
Limited play skills
Difficulty transitioning from one task to another
We offer a variety of OT activities & therapeutic techniques to promote the child's development, incorporating play to best meet your children's needs when creating a sensory diet/home program.
Sessions
 All sessions are 60 minutes where parents are encouraged to participate in therapy, as they are an integral part of a child's treatment. 
Service Techniques/Theories Our Therapist Utilize:
Sensory

Integration

Techniques

– (SI)

Developmental Oral Motor/Feeding Techniques

Neuro-Developmental Theory

– (NDT)

Fine Motor &

Handwriting Techniques

Joint Mobilization

Tissue Massage
In-home Programs Include:
Home Maintenance Programs

Sensory Diets

Community

Integration

Activities

& sessions (i.e. park, school, library)

Family Education

Adaptations and /or AD to support the developmental success